U9A at National Finals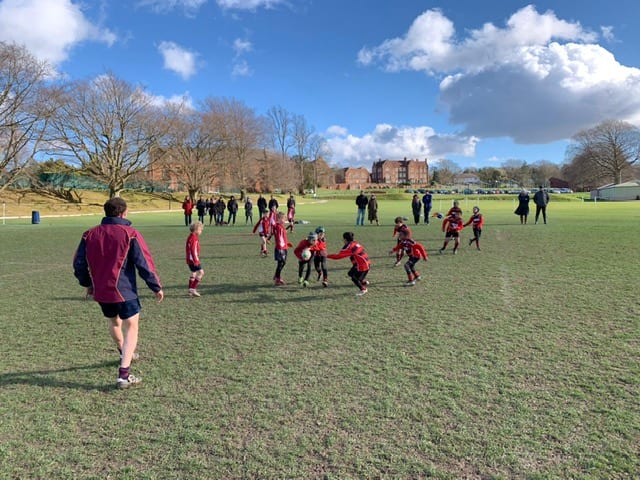 On a very windy, drizzly and cold day at Epsom College the U9A's set to work constructing what turned out be a series of exceptional performances.
Our first round of group matches would see us play Eversfield, The oratory and Surbiton Boys prep. The first of which against Eversfield produced one of our two draws. The Scoreline finishing 20-20, Cumnor made some great tackles to keep the scores level as Eversfield had some very strong runners and caused us problems all game long. Two solid wins against The Oratory 35-5 and Surbiton prep 20-15 meant that Cumnor would finish in a strong position after the first round of matches. All of the boys including the substitutes; Kaylen,Kaiyan and Thomas had contributed well to the fine start. The High pressure style of defence and offloading game which the boys have worked on all season was really giving them the edge.
The first of our second round fixtures saw Cumnor in a replay of their third match at the Surrey festival on Friday against Willington, thankfully the result was a different one, finishing 15-10 to Cumnor, with Kaylen picking up his first try for the U9A's. Next we faced off with a well drilled and organised Brighton College side who put us under pressure from all over the field. However Brighton had not accounted for two stand out performances of the day from Rayyan and Kyle. Six tries between them and a series of important tackles secured an excellent win! The final game of the day against Milbourne Lodge did not produce a record breaking scoreline but it did deliver in the quality of Rugby from both teams. Superb defence from both sides cancelled out most of the attacking opportunities, however, Milbourne and Cumnor managed to score one try each. The match ended with a nail biting defensive set from Cumnor as they held on for their second draw of the day.
A fantastic achievement from all of the boys involved to remain undefeated at a national festival. Well done boys!
Mr. Barnett
Published on: 14th March 2019