Miss Edwards,Weekly Message
A Message from Miss Edwards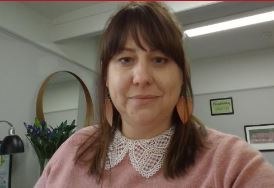 I am very much looking forward to welcoming the children back to school in just over a week's time. I am sure you are also looking forward to being able to work without distractions and to resign your recent posts as supply teachers! Thank you for all your support in our online learning provision, we know it has, at times, been tricky and online learning is in no way a perfect substitute for being at school in the physical sense. I remember seeing many parents 'skipping' along the road after 'drop off' on our first day back in September!
There is a great deal of information for parents in this newsletter relating to the reopening of the school on Monday 8th March. Firstly, click here: Back to School Brochure (March 2021) to read the 'Back to School Guidance' which focuses on the timings of the day, Covid testing for staff and Y7 and Y8 pupils, face coverings, reminders about cleaning and personal hygiene, extra-curricular activities and after school wrap around care and transport.
Further information on pupil testing for Year 7 and 8 using the lateral flow tests will be disseminated to parents in a Teams meeting on Monday 1st March at 6pm. I would encourage all parents of Y7 and 8 to attend as we will be discussing the plans to test the pupils twice next week on Tuesday 2nd March and Friday 5th March on the school site, as well as a third test on Monday 8th March when they arrive at school. Once the three on site tests have been carried out we will be sending home testing kits out for twice weekly testing on a Sunday and Wednesday evening. An invitation and link to join this meeting will follow via Cognita Connect shortly. This meeting will also be recorded and sent out as soon as possible on Tuesday morning and Mr Jones has prepared a handy testing guide for parents.
I am pleased to announce also that the current extra-curricular clubs which have been synchronous (live) such as 13/11+ clubs, Newspaper club will continue on site from the 8th March. All our asynchronous clubs will finish next week and I would like to take this opportunity to thank Mr Barnett who has worked extremely hard to provide many clubs to the pupils of all year groups across the Boys' and Girls' Schools which have ranged from 'baking' to 'making' and I am sure he is looking forward to getting back to the Sports Field!
Talking of clubs, I would like to make a special mention to the boys in Y3 and Y4 who attend Newspaper club. Mr Bolton and I are extremely impressed with their journalism skills and I was 'grilled' in my interview with Mr Ayaan Mir about my new role as Head of School.
Following my assembly on Monday about kindness I received a lovely email from Shivam thanking me for my assembly and telling me how kind he is to others – Well done, Shivam, that certainly made me smile and was an extremely kind and thoughtful thing to do. I also received a list of 'kind things to do' from Rahavan which included 'share your equipment (after Covid)' which was not only kind but in line with the guidance – well done!
Kind Regards
Miss Edwards
Published on: 2nd March 2021