Cumnor Pupil Wins Fourth Plinth Schools Award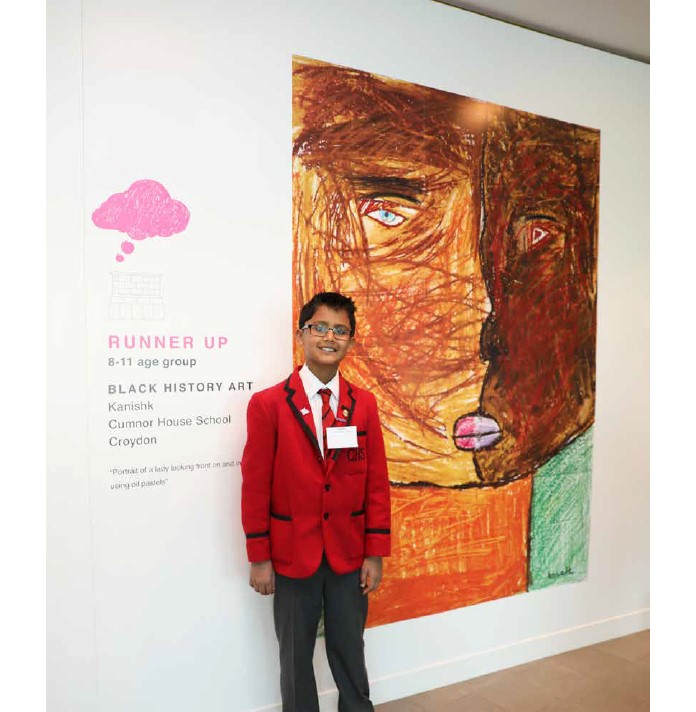 Last week we received a very exciting email from the Arts Council informing us that Kanishk Srivastava of 6T had won a prize in the Fourth Plinth Schools Awards 2018 for his oil pastel work entitled 'Black History Art'.
Each year, the Mayor of London holds an art competition inviting children in London schools to take part in this prestigious award.
This year, over 3500 entries were submitted and so we were delighted to hear that a Cumnor House boy had been shortlisted in the 100 final entries. Kanishk's artwork has presently been sent to City Hall, where it is to be photographed by a professional photographer and then displayed from 27th April to 29th June 2018.
Kanishk, his parents and Mrs J A Mitchell (Head of Art) have been invited to the awards ceremony at City Hall on Thursday 26 April. There'll be winner and runner-up prizes awarded for different age categories: 5-7 years, 8-11 years and 12-15 years, as well as for the best work from each borough.
Winners will receive a prize of art materials, courtesy of Cass Art Supplies. These will be presented by competition judge and international artist Heather Philipson and Justine Simons, Deputy Mayor for Culture and the Creative Industries.
Quite a number of boys had work submitted into the competition. Their entries can be seen online by going to: www.london.gov.uk/imagination
Published on: 28th March 2018