Restless Development Charity Achievement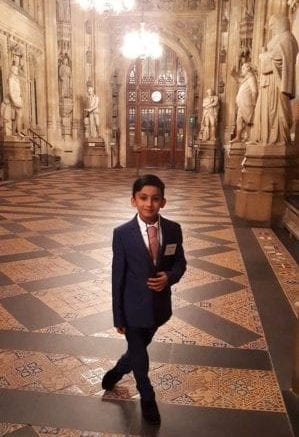 Restless Development are a charity working with young people so that they can lead in solving challenges – be this supporting communities to end child marriage or to prevent HIV, Restless Development works with young people to change their lives and the lives of people in their communities.
One of our year four pupils, Adam has been supporting this charity in 2019, with his triathlon achievements. Below he tells us of his recent experience to visit the House of Commons with Restless Development.
"On Tuesday 15th October 2019 I was invited to the House of Lords by Restless Development.  I took part in the Triathlon in April 2019 and was amongst the top 10 fundraisers and I raised £831 for the Restless Development charity.  Between the top 10 triathletes we raised £10,000.  This has helped set up over 80 businesses across Africa and Asia and given the opportunity to the youths of these countries to have a better life.
My favourite part of the evening was the tour of the Houses or Parliament and seeing all the statues of the past kings and queens who used to live here.  I also enjoyed visiting the public gallery in The House of Commons and looking down into the room where a live debate was happening. I am really happy to have taken part in the Triathlon and represented Cumnor House School and I hope to raise even more money next year."
A wonderful example of belief and endeavour, two of our key school values demonstrated by Adam, congratulations on this achievement, we look forward to hearing more from Adam throughout the next year.
Published on: 17th October 2019