Persian New Year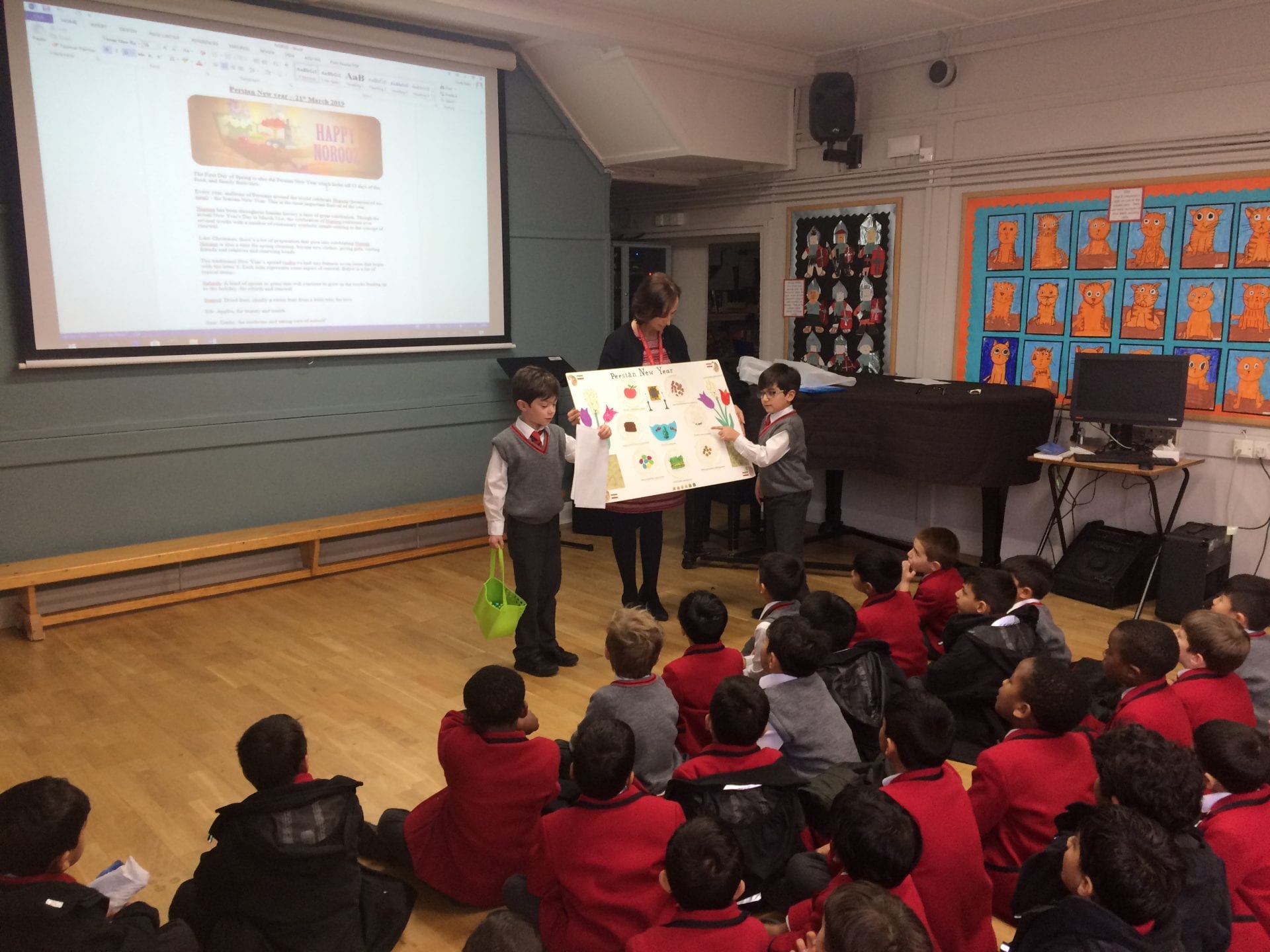 Two of our @WeAreCumnor Year 2 Boys presented their special assembly on the Persian New Year.
Some information about the Persian New Year:
The First Day of Spring is also the Persian New Year which kicks off 13 days of fun, food, and family festivities.
Every year, millions of Persians around the world celebrate Norooz (pronounced no-rooz) – the Iranian New Year. This is the most important festival of the year.
Norooz has been throughout Iranian history a time of great celebration. Though the actual New Year's Day is March 21st, the celebration of Norooz continues over several weeks with a number of customary symbolic rituals relating to the concept of renewal.
Like Christmas, there's a lot of preparation that goes into celebrating Norooz. Norooz is also a time for spring cleaning, buying new clothes, giving gifts, visiting friends and relatives and renewing bonds.
The traditional New Year's spread (sofre-ye haft sin) features seven items that begin with the letter S. Each item represents some aspect of renewal. Below is a list of typical items:-
Sabzeh: A kind of sprout or grass that will continue to grow in the weeks leading up to the holiday, for rebirth and renewal
Senjed: Dried fruit, ideally a sweet fruit from a lotus tree, for love
Sib: Apples, for beauty and health
Seer: Garlic, for medicine and taking care of oneself
Samanu: A sweet pudding, for wealth and fertility
Serkeh: Vinegar, for the patience and wisdom that comes with aging
Sumac: A Persian spice made from crushed sour red berries, for the sunrise of a new day.
A popular tradition is one similar to those of Easter – coloured eggs as a symbol of fertility.
Haftseen spread can also include a Quran, a book of poetry, a mirror and candles (reflecting into the future), a goldfish swimming in a bowl (representing life), and all kinds of sweets and fruits.
Norooz meals are delicious – the main traditional dish for the holiday is a green herb-infused rice often served with fish fillets (Sabzi Polow Ba Mahi).
On the 13th day of the New Year, the celebrations finally end. Since the 13th is an unlucky day, entire families go on picnics and take with them the sprouts (sabzeh) from the haftseen table. The sabzeh is thrown into flowing water, symbolizing a "letting go" of the misfortunes of the coming year.
Like many holidays ranging from Hanukkah, Christmas etc… the importance of love and respect within families, communities and society are often points of reflection. Regardless of religion, it's hard to not to appreciate the beauty in the deep-rooted history behind Norooz and the traditions that bring together families for weeks of love, happiness, and renewal. That's something everyone can universally exercise and appreciate.
Published on: 28th March 2019