Mrs McShane's Weekly Message 21st May 2021
This is a bit of a long newsletter as there is much to say about the exciting things taking place at Cumnor Girls. Please do keep scrolling down to the end.
Another week has flown by and I am delighted by so much that I see going on around school. The girls have really engaged with their Mathematical learning and thoroughly enjoyed the activities that they did on Numeracy Day. I have been able to read and hear about some incredible creative writing taking place across all year groups. The Art room continues to inspire the girls and rehearsals are going on aplenty for both the end of year concert and Prizegiving. There is a tangible buzz of engaged learning in the school and I feel very privileged to be a part of it every day.
Year Five girls are busy preparing for their ESB (English Speaking Board) examinations and have begun to showcase their presentations to the rest of the school in assemblies. This week I learned new facts about Ramadan, Blood cancer, Ireland and Sugar when Sumayya, Kara, Savannah and Zarah stood and presented so well to their audience. Giving the girls opportunities such as these to address groups of people really does build confidence and develops the life-long skill of oracy. We were also delighted to hear Rachna read out her outstanding creative writing with such confidence. What these girls achieve will never cease to impress me.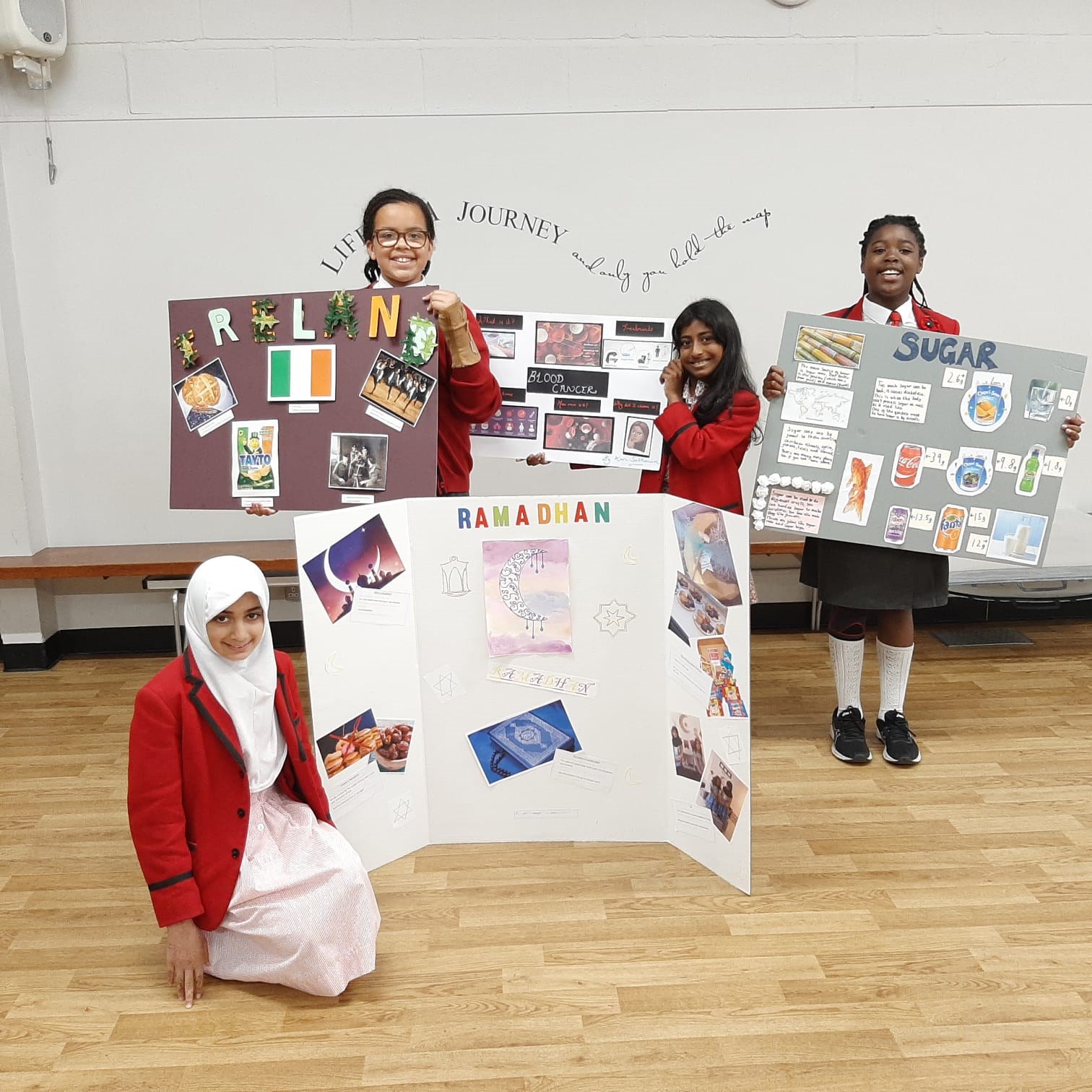 As we all become a little more relaxed about the current Covid situation with lockdown easing and a great number of people who have had one or both of the Covid jabs it is easy not to adhere quite so closely to the rules of hand washing and social distancing. I urge you please to remain as vigilant as you have ever been. The increase in cases of the Indian Covid variant is alarming and all too close for comfort. We have got this far pretty safely and I would hate to spoil it at this late stage.
We look forward to next Friday's Pyjama day and ask that, instead of money, the children bring donations for Purley Food Hub. The summer months put an even greater strain on the foodbanks and I hope that we will be able to help. The things that are in particular need at the moment are:
Microwaveable Packets of Rice
Cartons of Long-Life Whole Milk

Tinned Fish – eg, sardines, tuna, mackerel

Tinned Pulses – eg, kidney beans, chickpeas

Tins of Dessert Fruit

Disinfectant Sprays & Wipes
Bars of Soap

Unisex Deodorant
However, anything that you donate will be very gratefully received. Many thanks.
We will be endeavouring to send out a provisional clubs list for September before the end of term so that parents can sign up to out of school activities and make childcare arrangements. We are concerned that clubs that we are offering are not getting much uptake. If there are any clubs that you would particularly like to see on offer, either by our staff or by a third-party provider, please let the office know and we can see what we can do. I think that the breadth of opportunity that we give the girls is important but if there is not the uptake then it is not viable for clubs to run. This said, I appreciate that this term, with different bubbles and a degree of Covid anxiety, parents may not have wanted to their daughters to participate.
Sports Day, Leavers' Concert and Prize Giving
As Sports Day is taking place after the proposed lifting of the Lockdown, we will be having our Sports Day as normal for the children. In that we will be having a Lower School Sports event and an Upper School Sports Event, we are not operating this in our established bubbles. This will enable the girls to have a better competitive and community experience. This event will not be open for parents to attend which I understand may be disappointing for some. I believe that the Boys' School is holding their sports events in year groups, which they are able to do due to their size, and therefore are inviting parents to spectate. With the rise in the Indian Covid Variant, particularly in this geographical area, I am distinctly uncomfortable opening the doors to all parents to attend one event. My priority is not only for the girls to have a great Sports Day but also to keep them, my staff and parents safe. The girls will have an excellent day planned by our dedicated sports department .
All being well, we will be inviting the parents of Years 5 and 6 to attend both the Leavers Concert and Prize Giving where we can limit numbers to two people per child, and ensure social distancing and covid security. Both of these events will be filmed and distributed to parents.
This is not how I, nor any of us, want our celebratory events to be. I think you all know how much I enjoy our strong sense of community and family at Cumnor Girls but at this time, I feel I must place wants to one side and put our community safety first and I ask that you support this decision.
Cognita – Charity Support
As we are beginning to feel a little more confident with the vaccination programme and the easing of lockdown, we are at the same time watching the unfolding tragedy of Covid in India with shock and sorrow. We have colleagues and relations in many countries severely impacted by Covid including Brazil and Chile but the crisis in India is on another level. The reported statistics only reflect a fraction of the disaster there as the pandemic ravages communities in rural areas.
Cognita have decided to step up to support with raising funds for relief efforts and I'd be grateful for your engagement with this. Cognita have selected the British Asian Trust (BAT) as the conduit for fundraising as they have an impeccable track record of delivering support effectively on the ground. BAT was co-founded in 2007 by Prince Charles and a number of senior British Asian business people.
Please click the link below see a recording of a short Teams call our CEO for Europe, Stuart Rolland had with Manoj Badale, Chairman of BAT and with Abha Thorat-Shah, Executive Director of BAT to discuss their campaign to deliver oxygen to rural India.  If you would like to donate, all donations should be made at  https://britishasiantrust.enthuse.com/ CognitaOxygenForIndia.
I am delighted to confirm that Cognita will match any donations made by our colleagues and parents to ensure we can, together, make a real difference to the situation in India.
Many thanks in anticipation of your support, it is very much appreciated.
Published on: 26th May 2021