Cumnor House School for Girls shortlisted for two awards in the Independent School of the Year Awards 2022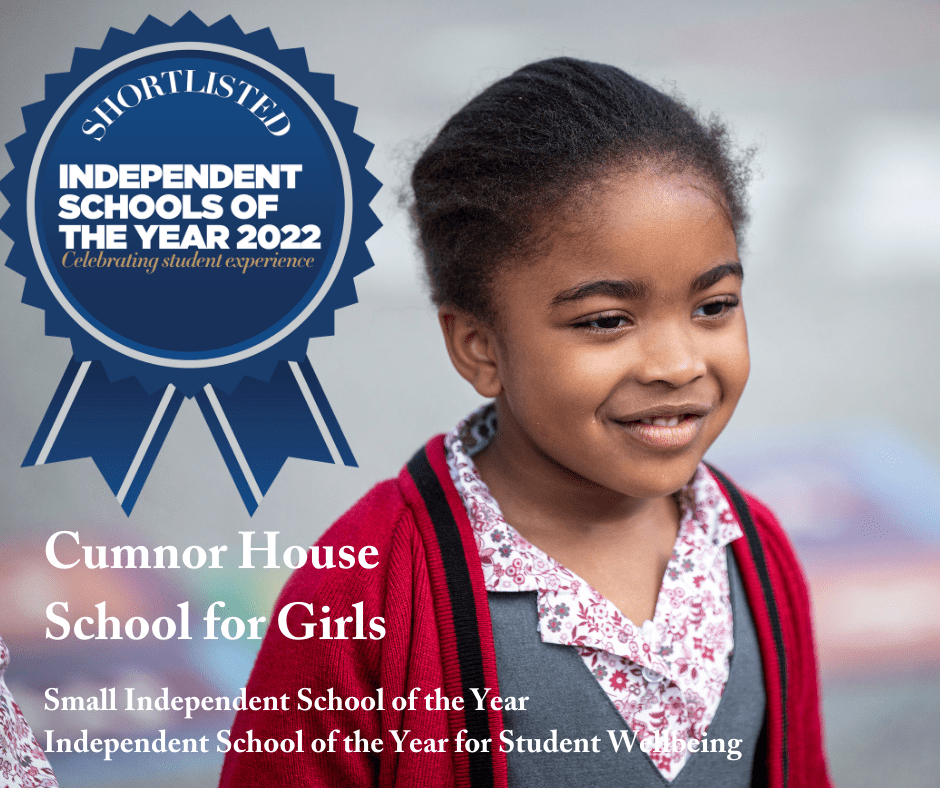 We are delighted to announce that Cumnor House School for Girls has been shortlisted for two awards, Independent School of the Year for Student Wellbeing and Small Independent School of the Year.
These nominations acknowledge the care, passion and dedication we put in to delivering the very best education for our girls, in a warm and nurturing environment, so it is a pleasure to see Cumnor House recognised in this way.
Our submission for 'Small Independent School' focused on the journey of a Reception child, through a child's eyes, describing how they are kindly and carefully reassured, how their confidence grows, how brave they feel as they start to try new things. We went on to describe how that child, now five years old, lays the foundations for learning, accelerating through her education, enjoying specialist teaching, outdoor experiences and a range of new challenges.
We were able to describe how that tentative five year old becomes an engaging and confident young lady, with opportunities in music, drama, public speaking and sport. How the older girls support, encourage and nurture the younger children, and how the feeling of family and community runs deep, and provides our girls with a natural confidence that sets them apart.
Of course, we were able to speak proudly of our excellent 11+ results, scholarship successes and the excellent senior schools our girls progress to year after year, but this is only part of the Cumnor House story.
Our submission in the Student Wellbeing category also spoke of our strong family networks, and the community we have as pupils, staff and parents. Thinking back to the days of the pandemic, we were able to demonstrate to the judges how our girls were supported during that difficult time and were provided with opportunities to openly discuss their feelings, experiences and emotions daily, and how our Wellbeing Lead offered weekly sessions to those who needed it most.
We were able to speak of our 'buddy' system, how the younger children were supported by the older, to ease their transition back to school after lockdowns.
Our Be Well Charter shapes our approach to Wellbeing, encouraging open dialogue on topics that matter to the girls – their successes, their happiness, as well as any worries. This close knit community approach, with wellbeing at its heart, means we are able to properly understand each child, to recognise when they need personalised support. Support at Cumnor House School for Girls is not limited to staff, we work with our girls to foster the approach that 'wellbeing is everyone's job' and have pupils who plan events, displays and games designed to support positive wellbeing.
Lastly our submission demonstrated to the judges what is most important to us as a school – that not only do our girls go on to achieve the most stunning results, but that they are compassionate, brave, kind – and most importantly, happy!
We're looking forward to hearing the results of the judging panel in October.
Published on: 7th July 2022