Questions to ask when visiting a school open day!
Here at Cumnor House Schools, our focus is for each pupil to 'Be your best self' underpinned by our core values 'The Cumnor Way'. Our personalised learning philosophy supports all children who study with us to develop their critical thinking, perseverance and self-belief.
Our Open Mornings are designed to give you and your child a real sense of a 'Day in the Life' at our school. During these Cumnor House open days, you will meet our Heads, our Pupils, our Admissions Team, and have a tour of the school.
Unsure of what to ask at a Cumnor House open day? Here are a few suggestions to keep in mind to help you feel more prepared. We look forward to meeting you soon.
Get to know your tour guides
All of our school tours are hosted by our staff and pupils who are there to guide you through the morning. We encourage open and honest discussion, so take the opportunity to learn about our school through their own unique experiences.
Your guides will be happy to answer any questions you may have about the school. You might want to ask about the day to day learning, or their own specific achievements. What do they like the most? What have they had fun learning? Have they enjoyed any trips? What do they think of their teacher?
What's the child-to-teacher ratio?
A varied approach to learning can mean that some subjects have a differentiating amount of students to teachers. Physical Education, for example, may have an increased ratio of students to teachers in order to coordinate between pupils more efficiently. However, this may be different than in Maths or English lessons.
It is worth having an understanding of what ratios specific classrooms have, to gauge how your child will be educated – and determine the level of teacher contact they will receive.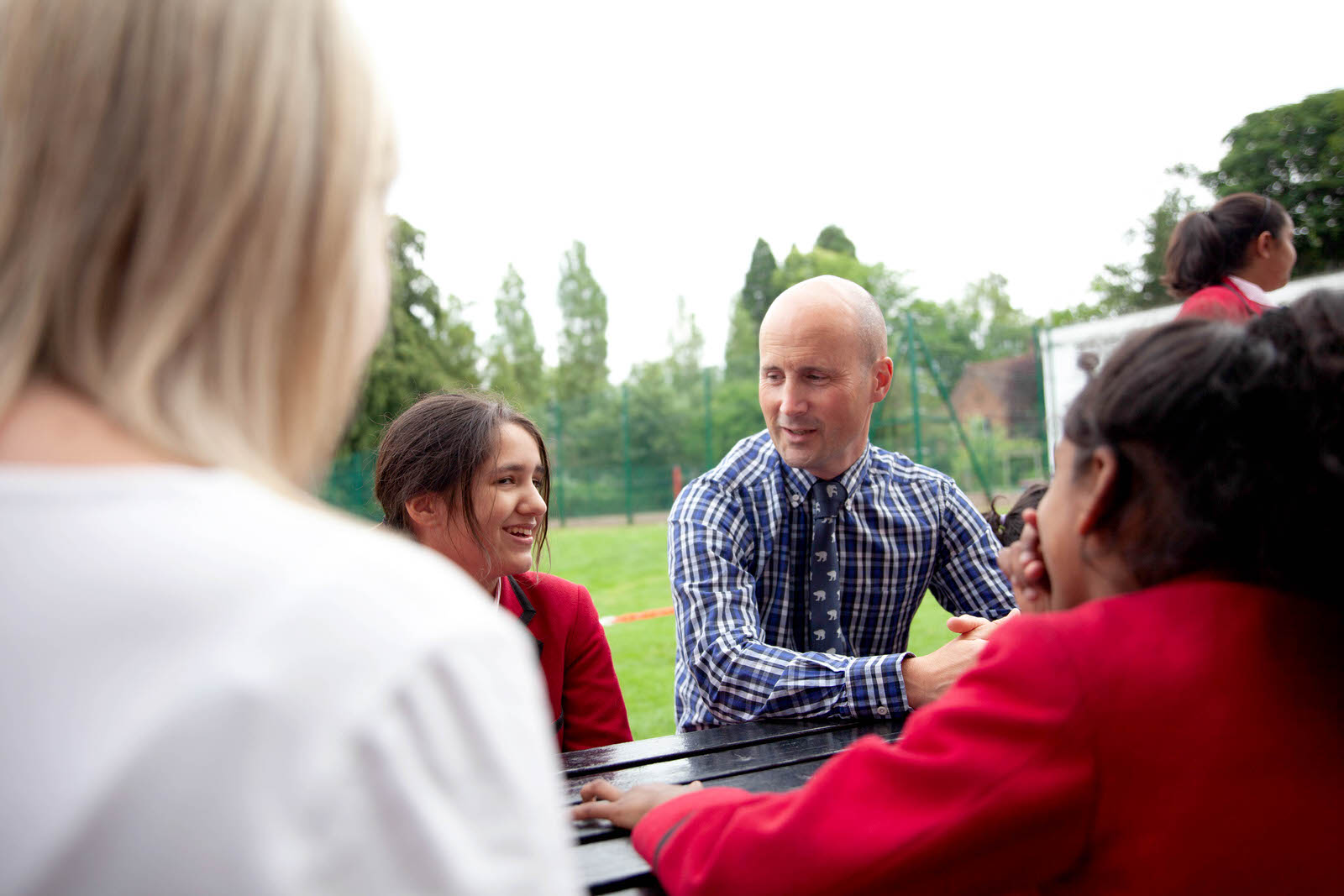 What is the policy for teacher-parent meetings?
We understand that as a parent it is really important to feel there is someone on hand to talk to if you have any worries about your child's wellbeing.
Check if it's possible to come into the school to meet with your child's teacher freely. You want to be comfortable that any concerns or issues will be addressed quickly and easily.
Is there a process to address concerns before they become a problem? Our administration team will be happy to help answer this question in particular, as we know it's important to have clear and defined procedures that support you and your child.   
Make sure you take a look at all of the teachers
The teachers will have primary contact with your child on a day-to-day basis, so they should form a cohesive team that represents the school in a professional way.
At the heart of every great school is an outstanding team of teachers. A long-standing team can make a huge difference in the education of the students and stability of the school. However, new staff can also bring a wave of innovation and teachers that bring a different perspective to their subjects.  
Either way, take the opportunity to find out more about the teaching staff at the schools you are visiting.
What happens next?
Perhaps one of the most important questions for both schools and parents is what to do next. Ask about deadline dates for application forms and put them in your calendar.
At Cumnor House, once the open day has concluded, we encourage parents to stay in touch. We even recommend that you consider a personal tour, to answer any further questions and see the school once again before making any decisions. Personal booking can be made on the Cumnor House website.
If you are yet to see how Cumnor House Boys' and Girls' Schools operate, we warmly invite you to take a look around our school. Join us for our Open Mornings, running throughout Spring 2019. Alternatively, you can call or get in touch by visiting our contact us page.