Headmistress Message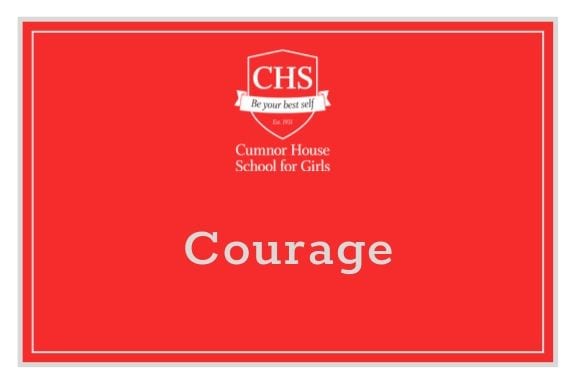 This week, I spoke in assembly about one of our Cumnor Values – Courage.  We agreed that courage is having the ability to do something that frightens you – bravery.   The girls discussed occasions when they had had to be brave, some of the suggestions were included doing something for the first time – joining a new school, taking an exam or even going on a roller coaster; but other examples were situations that may have to be faced more often like speaking up to voice an opinion or a concern, standing up for a friend or continuing on with tasks that are tricky.   We thought about who can help us in those difficult times, friends, teachers and parents and that it is important to talk and not to keep things bottled up.  After thinking time and peer discussion the girls were given a set of pledges and these will be posted in classrooms to help them to remember.  Having courage is so important, empowering our girls to believe in themselves and to have the courage to stand up for what they believe is right.  This is an essential life skill that needs to be practised through childhood in order that our girls become strong and resilient adults.
I don't give up when things get difficult
I recognize my own uniqueness and use courage to be me
I speak up about things that are dangerous or not fair
I try to think clearly, instead of letting fear control me
I face my fears and try to find ways to overcome them
I stand up for my sense of right, even if it is not popular
I find ways to fill my heart with courage
Around school, the girls have continued to be busy in class this week and I have been delighted to visit the classes and hear about some of the learning.  I have found out about the differences in our hospitals from Florence Nightingale's time to now, learnt how to make a recipe for courage in Year Two's Religious Education lesson, Reception have shown me all the different ways to make the number 6 and I have tasted delicious treats including banana pancakes and cauliflower cheese in Food Tech.
I had a former colleague in school today and she was astounded by the girls – the manner in which they engaged so eloquently and confidently; seeing them play so supportively among year groups, the quality and standard of their learning and how happy all the girls appear.   Of course, these are all things that I see every day and know are features of our lovely school, but it was lovely to have it observed by outside eyes.
"Live the Life of Your Dreams: Be brave enough to live the life of your dreams according to your vision and purpose instead of the expectations and opinions of others."
Roy T. Bennett