Head Boy's Blog – In Remembrance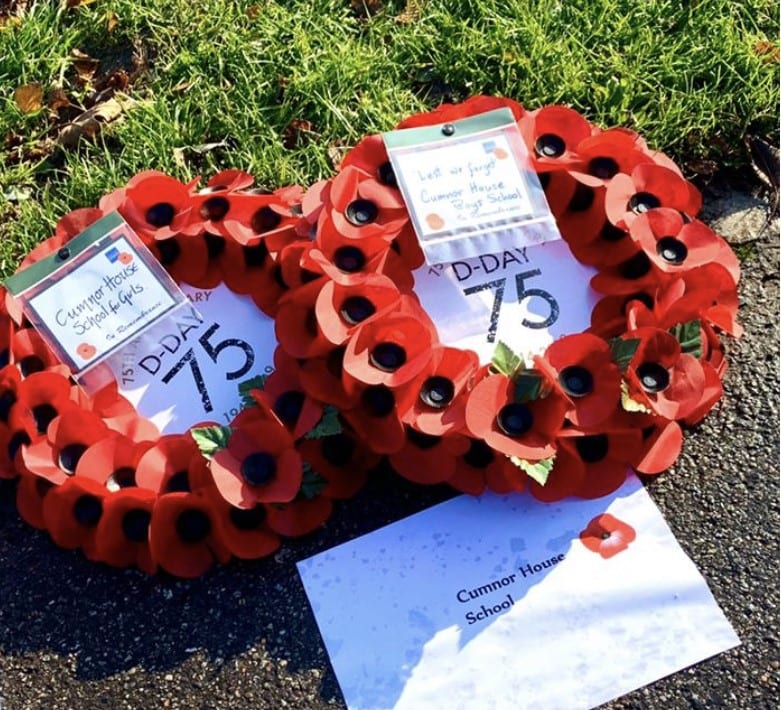 Yesterday, Kai Reece and I were honoured to participate, on behalf of Cumnor Boys, in the
Remembrance Service at Woodcote War Memorial with Mr Cummings.
It was an absolutely gorgeous crisp autumn day; as if the sun had come out in all its glory
just to join us in honouring the fallen.  Lines and lines of names etched neatly for posterity
onto a tall granite pillar, standing proud on the green, ringed with the wreaths we had just
laid. Our heads bowed in silence as The Last Post poignantly played out. For a few minutes,
time stood still.
What a contrast to the chaos, devastation and suffering there must have been on the
battlefield. Soldiers were "Bent double, like old beggars under sacks, knock-kneed,
coughing like hags," we are told by Wilfred Owen in his war poem, Dulce et Decorum Est.
"All went lame; all blind; drunk with fatigue."
Someone's father, someone's brother, someone's son; who gave their today so that we
could have a tomorrow.
And while there are many names carved on war memorials all over the world, some names
are etched only in the hearts of the loved ones they have left behind. Yet others are fighting
as we speak. People who have made and continue to make the ultimate sacrifice for the
greater good.
Sacrifice.
It's not a word that we hear very often nowadays and it sounds a bit old-fashioned, but
actually the idea of sacrifice is central in our lives.
But in fact, if people didn't sacrifice, we wouldn't have much of what
we have today.
We all understand that we have to sacrifice something to get something better in return,
such as studying for exams when we would rather be playing computer games. That sort of
sacrifice is easier because it is for our own good in the long term.
Then there is the selfless sort of sacrifice, where you do something just to make a
difference to someone else's life, without making them feel bad, without expecting thanks or
anything else in return. This sacrifice is a lot harder because it's too easy to think that we do
not get anything out of it.
But in fact, if people didn't sacrifice, we wouldn't have much of what we have today. We all
rely on each other's sacrifices – big and small. The sacrifice of the soldiers to give us our
freedom, the sacrifice of the teachers who give of themselves so that we can learn, the
sacrifice of our parents so that we can be our best selves.
So to complete the circle, it is only right that we sacrifice whatever we have for others;
going out of our way to make that difference and giving of ourselves with no expectation
wherever we find the opportunity.
I think there is no better way to honour those who have died fighting for freedom, truth,
equality and justice, than to carry on their legacy of sacrifice in whatever small ways that we
can. I end with the words of Taylor Godoy, who says it more eloquently than I can:
"Sacrifices we make for others and that others make for us,
result in blessings for all."